Right now my life is OBE. Overcome By Events. I am so swamped at work I barely have time to breath much less eat. So the upside is I am probably losing weight. The downside is, I am stressed and overtired. I am at 195 (again!) and hoping to see that dip back down to my previous best 193. In the mean time I have been reminded of my love for pickles. Whole dill pickles. Nom Nom Nom! This is the jar currently in my fridge.
Yummy! Love them! They are about 20 cals per pickle and I could eat them all day...except they have no other real nutritional value. In fact ya'll can feel free to pass the hat around and buy me this shirt. Snort.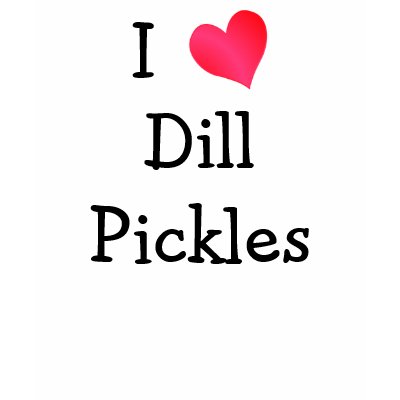 Okay I am done rambling about pickles. I don't want to end up where I did on Twitter yesterday talking about how they have to be measured in inches to be for me. How I like them thicker than thin...well you can see the problem.
SOME
people have dirty minds. ROFL! I hope I have more of anything to report next week...cause really who posts about pickles?