Image via Wikipedia
I am happy to say that last week was good. The weekend, well...we won't talk about the gooey goodness of the Brie cheeseburger I ate this weekend. It was divine. But food is still the topic of the day. In specific I am talking about my new secret weapon for eating breakfast and keeping with the Twitloss program.
I am calling it a breakfast bake. I love this because I can make it Sunday night and then leave it in the fridge for the week (three days so far it has been good). I would liken it to an egg scramble or omelet, except you throw it all in a casserole dish and then bake it.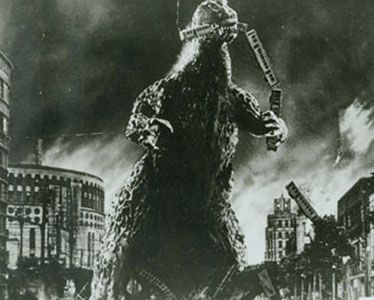 First I want to explain why this is my secret weapon. I have struggled since the 2nd week to actually get my lazy body out of bed to fix breakfast. Too often I rely on my diet shakes to replace breakfast. And, well the bottom line is that they aren't filling. Nutritionally they are good, but they don't satisfy my hunger. Not having the hungry beast within satisfied IS VERY DANGEROUS! It leads to ugly scenes not unlike Godzilla crushing Tokyo under his reptilian fury. So, having an easy-peasy way to get a filling and healthy breakfast is amazing!
What? You want to know what is in this miraculous, world saving, hunger ending dish? Behold! I will tell you. :D
Dara's Easy-Peasy Breakfast Bake
Baking/casserole dish (I used a quiche dish cause it is shallow)
Egg substitute (obviously use go for the real thing if that's what you want)
Tomatoes
Onion
Cheese
Pam cooking spray
(Obviously, like an omelet you can put any ingredients in here you want so go crazy! Make it wild and wonderful!)
First, heat the oven to 375 and spray the baking dish with the Pam. Then pour in the eggs (beat them if you are using real ones.) Next, toss in your chopped up ingredients, then sprinkle just a bit of cheese. (You could skip this since we are about to add more. But I luv cheese!) Season to taste and mix it all together. Make sure the eggs cover most of the ingredients.
Place that bad boy in the oven and bake for about 15 minutes or until it looks almost done. (You know...make sure the eggs are cooked.) Then pull it out and sprinkle (or smother) it with cheese. Put it back in the oven to melt the cheese for the final gooey goodness.
Lastly I let it cool then covered it to place in the fridge for the week. Each morning I scoop some out put it in a container and take it to work where I nuke it for about a minute then eat. It seems to reheat really well and has yet to disappoint.
Click here to download the recipe.

So go forth and enjoy! This makes breakfast super easy all week and of course you can tailor it to your favorite flavors.
I want to know, if you are going to try this what ingredients do you think you will use?